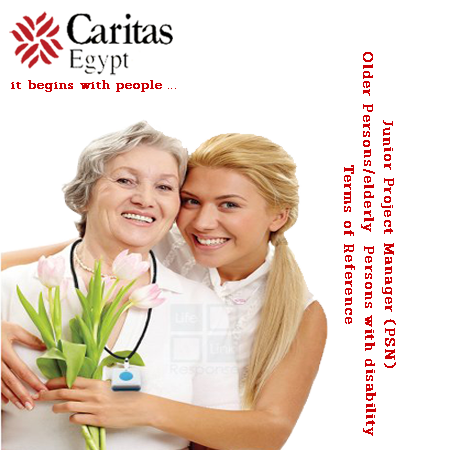 In Jobs
A New Job Opportunity for the Refugee Office – December 30, 2017/3
Junior Project Manager (PSN)
Older persons/elderly and persons with disability
Terms of Reference

Background:
Caritas Egypt was established in 1967 as an "Emergency Aid-sector" providing Egyptian with essential needs. The government's appreciation for Caritas active humanitarian contribution enabled it to be officially registered as a non-governmental organization at the Ministry of Social Affairs with the mission of combating poverty, exclusion, intolerance and discrimination.Caritas empowers individuals to participate fully in all matters affecting their lives and seeks to make them subjects of their own development and agents of change.
Job Summary:
The Junior Project Manager working under the direct supervision of the ———— will be responsible for effective and timely implementation of the project. S/he will be responsible for building the staff capacity, managing and supporting the team and ensuring that the project meets its target objectives in a timely, accountable and efficient manner.
Responsibilities:
Lead the planning of project activities and set high quality performance targets ensuring adherence to technical standards, best practices and UNHCR guidelines.
Use appropriate project management tools to plan, review and track progress on project implementation as well as on the utilization of project resources.
Develop program communication materials and documentation including lessons learned of projects.
Ensure proper financial management systems are in place and followed in coordination with the Financial Officer.
Provide and clearly explain expectations to all project staff to ensure they understand and are able to perform their responsibilities.
.
Provide leadership for project staff in terms of vision, implementation, planning, and – Ensure the safety and security of field teams.
Report concerns of suspected exploitation or abuse in accordance with the Reporting Procedures and Implementing the require investigating procedures;
Ensure services/project management compliance with donor regulation.
Establish and maintain excellent collaborative working relationships with local partners.
.
Advise Caritas Management about issues affecting project implementation, or key local issues affecting future services provided for refugees and asylum seekers in Egypt.
Prepare in a timely manner a;; the  project narrative reports, quarterly performance indicator tracking tables, baseline and final reports, as well as other reports needed/required by the local government, as per reporting schedule.
Develop training plan for new team members and refreshment sessions to old team members to enhance their work knowledge including provision of technical guidance/coach.
Monitor and supervise implementation of the project activities in accordance to the project work plan.
Prepare project report in timely manner in accordance with reporting schedule
Undertake parodic monitoring field visit to access quality of project implementation and seek feedback from beneficiaries.
Ensure the maintenance of an active/ updated case management database of all cases
Performance appraisal for the project staff member in collaboration with Caritas HR Dep.
Participate in all coordination meetings in consultation with management
Establish and maintain an active referral and feedback system with all relevant partners.
Qualifications:
University degree, degree in social work is preferable
Excellent command of English and Arabic , written , spoken  English is a must
Not less than 5 year of experience in related field.
Computer literate
The Vacancy is opened until January 15, 2018
Resumes should be submitted to caritas@caritaseg-ref.org