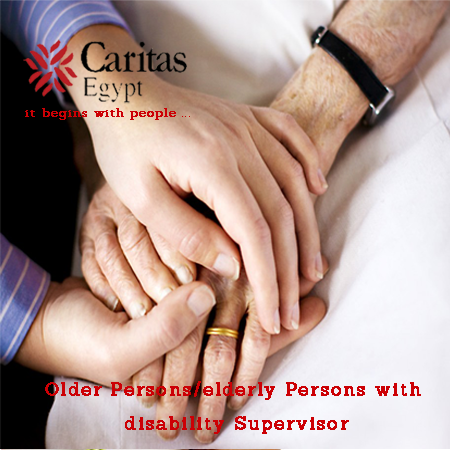 In Jobs
A New Job Opportunity for the Refugee Office – December 30, 2017/4
Older persons/elderly and persons with disability
Supervisors TORs

Tasks
Under the direction of the project coordinator, the Case management supervisor is responsible to:
Organize the workload of the case management team and assign cases to the caseworkers. Review staff caseloads to ensure they are manageable and share challenges with senior management.
Conduct weekly individual supervision meetings with all caseworkers, providing technical advice on cases and psychosocial support to caseworkers in line with SOPs, and best practice guidance.
Supervise regular case management meetings internally. Attend inter agency case management conference as needed.
Support capacity building of the case management staff, from the development of the training plans to the rollout and the evaluation. Provide on the job coaching and deliver training sessions.
Monitor timescales for response, decision-making, follow-up and review. Support individual cases where required and provide regular monitoring of all aspects of case management services.
Provide supervision, guidance and regular feedback to the case managers under her/his responsibility.
Ensure access to material, logistical, and further technical support and set eligibility criteria for material and other support.
Support the data management process to ensure a comprehensive record of the case, in accordance with data protection protocols and confidentiality principle. Review and analyse trends in the caseload to inform programming.
Conduct regular case file audit and check that protocols and principles are respected.
Skills and knowledge
Have experience of working with persons with specific needs and families, including ideally qualifications in providing support services for them and solid interviewing skills.
Understanding of specific refugee protection and including knowledge of refugee communities.
Ability to identity capacity building needs and develop capacity building plans; ability to deliver trainings.
Ability to provide guidance and supervision in a constructive manner.
Ability to monitor work and performance in accordance with SOPs.
Ability to work collaboratively with other professionals and organizations.
Ability to plan and organize work, in accordance with the SOPs.
Ability to manage stress and emotions.
Requirements
Graduated in social sciences, psychology or related matters and 2 year experience in social work or refugee related field. OR 3 year experience in social work with refugees or vulnerable communities.
Excellent command of English, both spoken and written.
Excellent drafting skills and proficient computer skills.
Demonstrates the highest standard of integrity
The Vacancy is opened until January 15, 2018
Resumes should be submitted to caritas@caritaseg-ref.org