In Jobs
A New Job Opportunity for the Refugee Office – December 30, 2017/1
  Caritas Egypt    
 Psychosocial worker
Terms of reference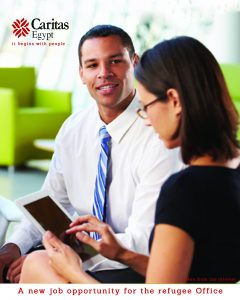 Background
Caritas Egypt was established in 1967 as an "Emergency Aid-sector" providing Egyptian with essential needs. The government's appreciation for Caritas active humanitarian contribution enabled it to be officially registered as a non-governmental organization at the Ministry of Social Affairs with the mission of combating poverty, exclusion, intolerance and discrimination. Caritas empowers individuals to participate fully in all matters affecting their lives and seeks to make them subjects of their own development and agents of change.
The Incumbent for this position will work under supervision of the Senior Social Services Manager at Caritas Cairo.  The staff will be based at Caritas Main Office in Greater Cairo but covering the Operational area in Greater Cairo and its environment where refugees are located.
Objective:
To strengthen services to Refugees and Asylum seekers with disability and ensure   that their needs are identified and addressed in a coordinated and collaborative manner and that their rights to services without discrimination is upheld.
Responsibilities:
In coordination with UNHCR conduct training for agency staff on disability and the right of persons with disability (PWDs)
Conduct community awareness on the rights of persons with disability, the role of community in providing support and protection from violence, exploitation and abuse.
Establish and implement a functional inter agency referral system and follow-up to ensure that the needed services are provided.
Facilitate access to and monitor the provision of assistive/supportive devices and rehabilitation services  to PWDs  in accordance with their identified needs
Establish a community based follow-up and monitoring system for persons with disability and undertake regular field visits
Undertake identification and/ verification of PWDs for proper documentation and follow-up
Conduct systematic need assessment exercise for all PWD in collaboration with specialized agencies  for targeted intervention (s)
Carry out comprehensive case management including follow-up and monitoring and feedback system.
Establish a functional computerized database of all persons with disability
Establish area based social support network for Persons with disability and their families/caregiver and provide support and counselling.
Implement home based care for extremely vulnerable Persons with disability without family support who are unable to care for themselves including provision of support to family and caregivers.
Implement provision of psychosocial support including counselling including group and family counselling to PWD and their family/care giver
Implement social events and /recreation activities for Persons with disability and their families
Participate in training and coordination activities
Set up a monitoring system to evaluate the effectiveness and the impact of the planned individual and group psychological support intervention programs on the beneficiaries.
Write technical assessment report of cases found in need of assistance
Implement or facilitate access to rehabilitation services for PWD based on their identified needs
Provide leadership to team members
Qualification
University degree in sociology/psychology or social work
Minimum of three years' work experience in social work or working with marginalize people or persons with disability.
Or 1 year of experience in related field.
Previous experience in a management or supervisory position
Fluency in written and spoken English
Skills
Problem solving skills
Have people skills and is open to work with diversity and at field level
Good computer skills
Fluent in English written and oral
The Vacancy is opened until January 15, 2018
Resumes should be submitted to caritas@caritaseg-ref.org