In job announcement,Jobs
New Job : Basic Assistance (Cash-Based Interventions)
Caritas – Egypt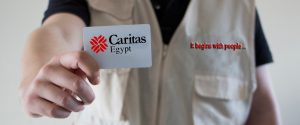 Position Title: Project Assistant
Project: Basic Assistance (Cash-Based Interventions)
Background
Caritas Egypt is conducting a comprehensive multi-sector household-level survey building on a similar survey in 2017. In 2018, the survey targets refugees and asylum seekers of all nationalities with a view to improving understanding of the living conditions of refugees and asylum seekers in the country  and also to inform targeting of assistance.. The incumbent will be primarily based in Cairo and may occasionally be required to conduct field visits to other locations across the country.
Job Summary
Under the supervision and guidance of the Project Manager, the Project Assistant is responsible for monitoring the implementation of general project activities. S/he is expected to , work  independently on regular assignments with an oversight from the supervisor, who will provide general guidance and work plans for identifying work priorities and appropriate approaches.
Responsibility:
Monitor the project activities on a regular basis through collecting & analyzing different data in relation to the project activities as per project Management instructions
Participate in strengthening existing M&E system.
Conducts quality audits of activities related to core Project requirements
Identifies issues and risks central to the implementation process based on reports provided by Data Management.
Monitor and evaluate overall progress on achievement of results;
Monitor the sustainability of the project's results;
Suggest strategies to the Project Management for improving the efficiency and effectiveness of the project by identifying bottlenecks and proposing solutions;
Develop and/or contribute to monitoring and evaluation tools for tracking and measuring project performance.
Support establishment of accountability mechanisms for refugees resulting in improved community engagement, complaint and response and coordination
Support and participate in assessment and baseline process
Prepare and submit periodic monitoring reports in a timely manner:
Track implementation of action plans and share monthly recommendations to the project coordinators and team leaders.
Entering all M&E relevant reports into the online systems.
Ensuring accuracy of entered data and comparing it with the existing filing system to make sure all records are consistent and aligned.
Coordinates the execution of activities between internal project departments
Delivers weekly/monthly reports internally to be reviewed and approved by Project Manager.
Monitors staff performance against performance objectives.
Provide guidance and support to the development and implementation of monitoring tools, which will include, but not be limited to, data collection, analysis and reporting on program indicators;
Support organizational project learning by developing, collecting and disseminating relevant information on monitoring, evaluation and research.
Helping for Implementation of follow-up actions required by Project management.
Any other duties assigned by Project Manager.
Qualifications:
Bachelor degree in Statistics, Development studies, social studies or its equivalent and Technical training in monitoring and evaluation.
Minimum of at least three (3) years of experience in design and implementation of monitoring, evaluation and research
Advanced computer skills in Excel, Word processing, Database management, SPSS or other statistical packages
Excellent writing and verbal communication skills.
Experience in designing tools and strategies for data collection, analysis and production of reports;
Proven ICT skills, especially in the development of MIS software using database software;
Expertise in analyzing data using statistical software;
Strong training & facilitation skills.
Language Requirements:  Fluency in written and spoken English and Arabic
Other Competencies/Attributes: Excellent interpersonal skills, excellent verbal and written communication skills, Solid negotiation skills and ability and willingness to learn new skills
Application
Applicants should email a copy of their CV and cover letter to:
apply@caritaseg-ref.org
 by Friday  March 30, 2018
The email subject must contain the relevant job title.