Director – Basic Education Program
Mission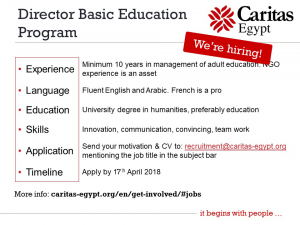 Caritas Egypt is one of the largest NGOs in Egypt, founded in 1967. Caritas strives for social change by respecting the principles of human rights. We build awareness, provide expertise and support vulnerable people and fragile communities all over Egypt. We empower them and create opportunities, so that they may realize their potential and participate in social, economic and cultural life. We work with local, national and international partners – civil society organizations and governments alike – for sustainable development.
Four key principles guide our work:
At Caritas Egypt, it all begins with people. We believe that every person is a worthy asset for society.
We support the right of people to make their own choices by creating conditions that help them do so. We empower them to influence issues that affect themselves and their communities.
We are inclusive and recognize that some people may need additional support to overcome the barriers they face.
We believe in partnerships. By sharing our expertise and resources with our partners and beneficiaries, our limited resources are better used and the public better served.
 At Caritas Egypt we cherish high professional standards, creativity, innovation and learning, collaboration and partnerships; we take responsibility for our actions and encourage open communication, both among employees and with our partners.
Basic Education Program
The Basic Education Program (BEP) is one of the oldest and largest programs of Caritas-Egypt. Its main objective is to provide educational opportunities as a basis for an empowered life. Its target recipients are adults, mainly women. It provides them a second chance to learn, to read and write and claim an empowered place in society.
The program is implemented in five locations in Egypt. It has a presence in four governorates in Upper Egypt, in Cairo (program coordination) and in Alexandria.
Annually it trains close to 5,000 women and men to read and write, besides informing and empowering them on issues like economic development opportunities, domestic violence, female circumcision (FGM), early marriage, family hygiene, environmental preservation and community development.
Basic Qualifications
Minimum Requirement is a University degree in Education or comparable degrees. An advanced degree in Education or in the humanities field or comparable fields is preferred.
At least 7 – 10 years' experience in a senior management position in development organizations and/or Non-Governmental settings (NGO).
Excellent Language Skills in English (Written & Spoken). French is an asset
Extensive experience in writing reports and proposals.
Main Responsibilities
Management
Provide leadership and inspire BEP staff and project target groups
Oversee overall management of the program
Supervise the senior staff of the BEP
Supervise proposals writing and budget preparations, ensuring learning from part experiences and partnerships, and keeping abreast of international trends and innovations to keep the program relevant
Assure that the project is sustainable and within the budgeted parameters
Prepare needed reports to financing partners of the program and projects
Determine the appropriate number of staff needed for the project
Setup parameters for interviewing and hiring of new instructors
Approve and oversee all professional development for teachers and staff in the project
Program design
Ensure Project outcomes are met.
Host and approve the programmatic design of workshops or delegate it to someone else to do so.
Ensure that policies are set up for program (ie. attendance and assessment of scores).
Planning staff activities and organizing departmental meetings (4 to 6 times per year).
Conduct field visits, at least once a year, to the different Regional Offices (Alexandria, Minia, Assiut, Sohag, Luxor, and Aswan), visiting some of the literacy classes or village libraries.
Organize trainings and workshops for the implementation of the project.
External relations
Participate in relevant conferences, seminars, and workshops at the national or international arena.
Host and accompany foreign visitors or partners.
Ensure the marketing of classes.
Represent the project to external stakeholders.
Collaborate with other similar organizations.
Support the philosophy and mission of Caritas.
Builds alliances and consortia, both with other organizations as well as with other Caritas-Egypt programs
Monitoring, Evaluation, Accountability and Learning (MEAL)
Ensure that sufficient, relevant metrics (indicators) and sufficient, good qualitative data are gathered (stories) and studied
Review the monthly reports on formative evaluation results per province.
Setup performance evaluations, site visits, and other evaluative matrices.
Conduct evaluation of staff performance and give feedback as needed.
Other management functions
Control inventory texts and supplies at each teaching site.
Approve purchase orders for supplies and getting needed materials to sites in a timely basis.
Perform other duties as assigned.
Required skills
Adult education/literacy experience.
Basic computer skills.
Excellent communication skills.
A Positive Thinker, Creative Thinker and a problem solver.
Reporting
Reports to the Executive Director of Caritas-Egypt.
Application details
Mail your motivation letter and CV to recruitment@caritas-egypt.org latest by 17th April 2018, mentioning the job title in the email subject.